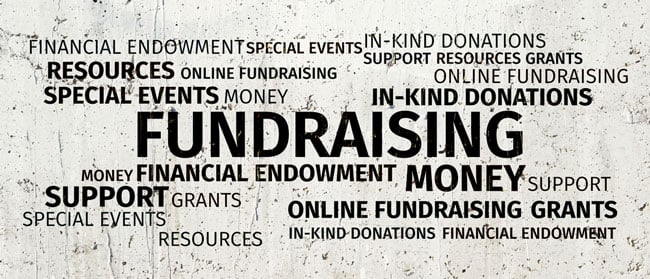 Effective fundraising focuses on the audience because audience relevant campaigns will count the most with those ready to support your cause. The next step is eliminating the obstacles to donation rather than reinforcing them with your tone and message. There are many ways you can reduce the uncomfortable aspects of fundraising for you and your staff as well as potential donors.
Don't be afraid of innovative events that give real value to your potential donors.
The Fun Factor: Events
Nonprofit organizations are dealing with stressful situations and social problems. Because of this, it may seem unnatural to plan a fun, innovative event to raise money. After all, seniors in your community aren't getting the care they need, and it feels wrong to celebrate that.
However, positivity inspires people. Your long-term goal is to raise funds to make the community a better place. You can highlight the great work you do while raising money if you keep the focus positive.
Why not hold an event that celebrates your senior volunteers and the seniors they assist? These people have stories to tell, advice to give, and areas of expertise others might love to hear.
Another positive way to create fundraising events for senior non-profits are through auctions. Think about holding a mobile auction to appeal to younger donors as well as busy professionals who can't attend an evening event. Some of the seniors you work with may even be artists, possess skills they'd like to donate, or have valuable antique items they'd be happy to donate. This way everyone is involved, connecting with and giving to each other and no guilt is involved at all.
Work with Influencer Volunteers
Influencers are one of the largest driving forces in marketing today and you can leverage that strength in your non-profit. Invite influencers to spend time volunteering and ask them to share their experiences on their social media platforms.
If you build a long-term relationship with an influencer, they will promote your organization over a period of time. This goes a very long way in gaining the trust of younger donors who spend a lot of time on social media.
Some influencers have audiences numbering in millions. These people drive sales and trends with their opinions. It's valuable clout for your organization and a pathway to engage millennial donors.
Ask for Small Donations
This idea draws on the 'skip your cup of coffee' paradigm but without the guilt. Go ahead and ask for small donations in a positive way. "Any donation helps" is the message you want to promote because it genuinely does.
Praise small donors and value every gift. You'll see a positive effect on your bottom line.
Make Donating Effortless
People often like to take the easy way out and making it easy for them to give is a great way to supplement major fundraising events. Include buttons on your website and email communications that encourage set donations. Denominations like $5 aren't overwhelming to people, and the ease at which they can give could cause a flood of new small donations. Always remember to add the option to give more as well.
Provide Email Updates During Campaigns
This is particularly motivating during 24-hour push campaigns. Sending status updates to your email list showing the progress of the drive motivates people to give. It helps them feel engaged with the project. It also gives you another opportunity to share moving facts and vital data with them.
If you have a creative campaign with a clever slogan or a cause with a great story, morning, noon, and evening emails help you drive home your message. Also, providing a game-like experience for your donors.
Gamification
Speaking of donations a game, the concept of gamification is based on rewards as motivation. By turning tasks into something that feels like a game, people are more likely to engage and for longer stretches of time.
Reward points are one of the most natural and common elements of gamification. Points give value to actions and provide an easy way to rate progress. Donors can track their progress throughout the fundraising event. By awarding points for frequent giving, donation feels more compelling.
Badges and leaderboards are two other gamification tactics that lend themselves well to nonprofit fundraising.
Badges are a visual reward for completing a particular task or set of tasks and are designed to give users a sense of accomplishment. Leaderboards allow for comparison against other players, or in this case donors.
For example, Fitbit helps motivate people to exercise by displaying how they rank against their friends in terms of total steps.
Tone Matters In Effective Fundraising
Nonprofits have the difficult task of seeking funding from others, but it doesn't have to come across as begging for money. Instead, innovative approaches to fundraising combines awareness with a method to share your organization's values while finding donors already motivated to give.
Below is our checklist to help you get started for your next fundraising event.