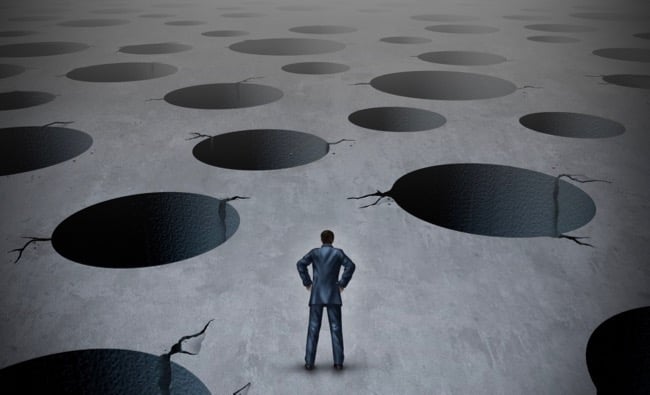 The number of aging adults will probably double by 2030. Trends show the aging baby boomer population is growing faster than ever before. The nonprofit organizations working in elder care provide tangible benefits to their community. Most organizations depend on fundraising to carry out these plans.
Fundraising for senior causes must maximize support from donors who recognize the challenges and appreciate the solutions your organization provides. Before spending time brainstorming new ways to raise money, examine your current processes.

Is your organization guilty of any of the following pitfalls of fundraising?
#1: Your Approach Is Too Passive
Don't assume donations will roll in just because you are working for a great cause. You are one of the thousands of good organizations your donors have to choose. Organizations must attract support by earning it.

Giving away money is a thing we all do reluctantly, and it is rarely an instinctive act. People pledge support when presented with concrete information about challenges and a clear solution path. You can encourage donations by providing that to all potential donors.

Explain why you seek the funding, the reason why your project is compelling, who is going to benefit, and why the donation is time sensitive. This information should be a part of your campaign materials.
#2: Too Much or Not Enough Diversification
The best balance of proper revenue streams will nourish a nonprofit. However, both concentration on one revenue source and over-reliance on numerous can be harmful.
Income diversification prevents financial calamity by spreading out the risk to the multiple income sources. Without diversification, if one income source becomes hostile (sequestration, government grants, etc.), it endangers the survival of the organization.

Conversely, wearing yourself way too thin by over diversifying is a problem as well. For starters, the infrastructure necessary to keep pipelines for a bundle of income types can be overwhelming. Juggling individual donations, finding and submitting grant applications, and handling the information requirements of government grants and contracts takes time and structure to pull off.

Next, only a few income types are going to be an excellent fit for your cause. The burden of managing an ill-fitting income stream can be costly. For instance, balance the benefit and cost of something like a thrift store. It will not work for all but provides financial nourishment to others.

#3: Forgetting to Treat Donors Like They Matter
Do keep your donors informed and engaged. Devote a little time to let them know you appreciate them as individuals.

Do not get stressed and forget to follow up donations with a thank you note and tax receipt. Additionally, do not plaster donors with print mailings, mainly when they already give regularly. Attempt to personalize the thank you notes as much as possible to keep your contributors feeling engaged and valued.

Lastly, make sure all of your donor's info is right, specifically spelling names correctly.

#4: Complex Donation Processes

When a prospect is on the verge of donating, make the procedure as easy as possible.

Requesting an excessive amount of information places a roadblock between you and the donation. Ask for the minimum you need to process a credit card contribution and accurately report the donation. You can ask for additional information (demographics or contact information) after the fact. A follow-up email with a link for creating an account or a form on the donation confirmation page offering to save the donor's payment info for the next time is great ways to get what you need without causing donor fatigue.

#5: Ignoring Crucial Donor Data
Marketing strives to gather data to inform decisions rather than relying on intuition. Nonprofit fundraisers should adopt this method. You will benefit tremendously from learning about the successes and failures of various other online fundraising operations as well as how your donor's act.
The most successful fundraisers test every assumption and experiment with every option. Your online donation web page is a fantastic spot to start testing out assumptions and gathering data to back them up or perhaps prove them wrong. Try varying the page copy, making use of different messaging, changing suggested donation amounts as well as experimenting with various images and calls to action.

Even changing the color of your donate button can affect donor response.
Avoiding Mistakes Can Create A Fundraising Boon
We tend to think about fundraising as an assigment, a chore or perhaps a creative endeavor. We do not consider evaluating our current practices to find out if we are making mistakes. Rather than coming up with entirely brand new ideas and campaigns, devote a little time to assessing exactly how you are doing things right now.
Could you make your donors feel more valued? Have you been making use of your donor data to find opportunities? A little change might mean a huge difference.