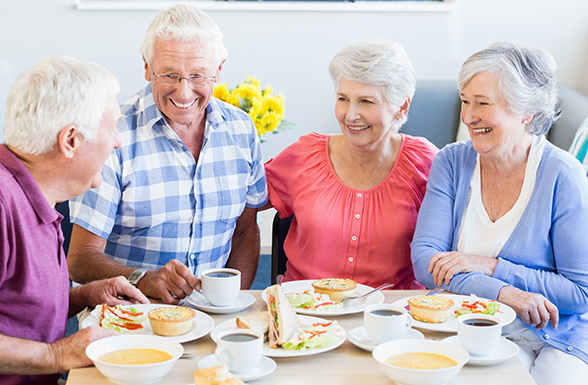 September is National Senior Center Month, and this year's theme is "Senior Centers: The Key To Aging Well." Senior Centers offer ways to keep older adults active, social, and provide programs to help them to continue to learn and grow. Sharing meals is a popular activity at Senior Centers and provides a vital social interaction that is so important to older adults.
Senior Center Facts:
Senior Centers are for anyone aged 50 and older although, some may list 55 or even 60 as the membership age.
Generally, you don't have to be on Medicare to join a Senior Center.
Senior Centers will usually have a low annual or monthly membership cost.
Many Senior Centers are operated by local government entities, although local non-profits run some.
Senior Centers are a valuable resource for locating other senior services you may need.
Senior Centers -- Something for Everyone
Senior centers play an essential role in today's older adults. They are a place for older adults to engage, learn new things, socialize, and help them lead a productive life in retirement.

Although programs and activities vary from each center, here's a sample of programs that may be available at your local Senior Center:

Cooking and Nutrition Tips
Meal Programs and Potlucks
Fitness Classes
Dance
Employment Opportunity Resources
Computer Classes
Tax Preparation Assistance
Financial Management
Continuing Education
Arts & Crafts
and much more!
Senior Centers are designed to help older adults lead active, independent lives through enrichment, social, educational, and wellness programs.
Meals Programs
Hunger is another major issue that senior centers can offer help. Today, one in six older adults face the threat of hunger. Senior dining programs provide meals that are healthy and appetizing. In fact, 95% of seniors say they would recommend the nutrition program to a friend.
Through the Supplemental Nutrition Assistance Program (SNAP), congregate dining centers, home-delivered meals, and senior centers help to provide a supplement to older adults' nutrition. To learn more, visit SNAP's website and see if you are eligible for benefits.
Aging in Place
According to the National Aging in Place Council, more than 90% of older adults prefer to stay in their own homes. Many Senior Centers help keep older adults in their homes longer, and they offer a variety of minor home repairs and seasonal care services to older adults who may not be able to complete these tasks on their own.
Home-Delivered Meals
Studies show that home-delivered meals significantly improve diet quality, nutrient intake, and reduce food insecurity and nutritional risk. Senior Centers have been partnering with GA Foods for over 40 years with older adult nutrition. To learn more, click the image below.