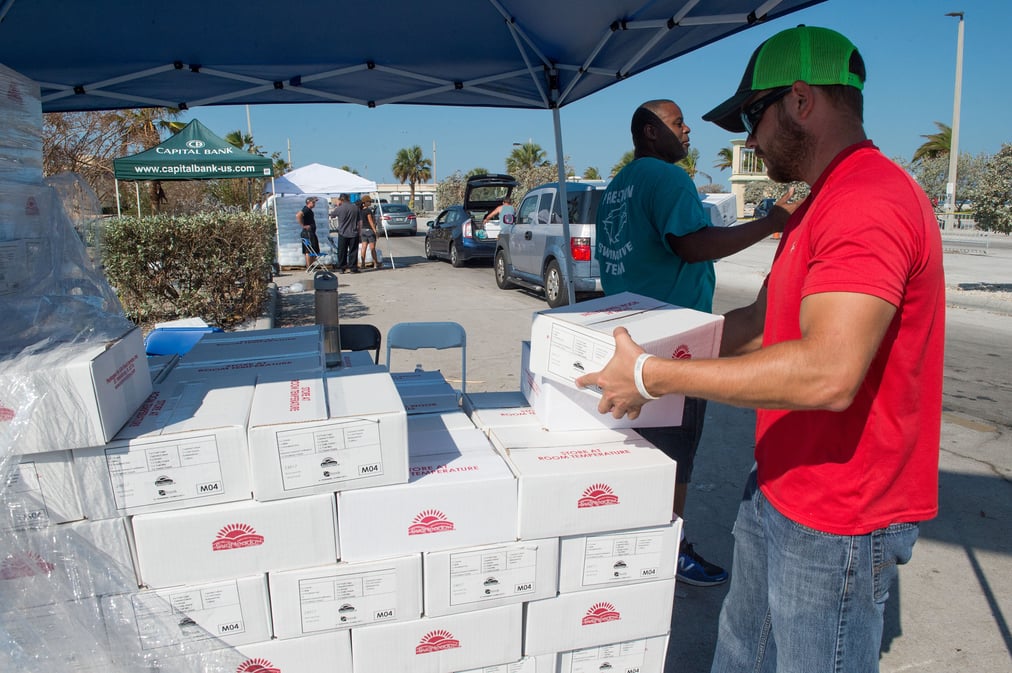 Shane Vansant (right) and Joshua Howard hand out food to Hurricane Irma survivors at a supply
distribution point in Key West, Florida on Monday, September 18, 2017. Photo by J.T. Blatty/FEMA
GA Foods was recently honored to serve those in need by providing disaster relief meal kits for the victims of Hurricanes Harvey and Irma. We drew from our 15 years of disaster relief experience to supply nearly 7,000,000 meals in 21 days to those in need - all while Hurricane Irma was nearing direct landfall in St. Petersburg, FL where the company is headquartered and emergency relief efforts are centered!
But these extreme weather events did not hinder our employees' efforts. Many worked 12-hour days for 20 consecutive days in order to maintain a steady flow of life-saving foods to some of the most devastated regions, and continued to provide uninterrupted service to the people in need that we regularly serve...all while battling hardships of their own caused by Irma.
It would be hard to find a better opportunity for us to live our core values - commitment, teamwork, and touching lives - than responding to those enduring the devastation of our latest storms while continuing to serve those in our regular care without disruption. GA Foods is honored to be able to serve those in need.
Disaster Relief Operations
GA Foods is one of the largest providers of emergency meals. To ensure a rapid and successful response to a disaster, GA Foods has implemented the following:
Four facilities with assembly lines available for disaster relief production
Vendor agreements to ensure adequate supply chain
A 30,000 square foot facility dedicated exclusively to disaster response and ready for immediate use
Tested and proven inbound and outbound logistics plan
GA Foods' 30,000 square foot facility is dedicated to emergency response production.
We are GA Foods. We touch lives. We are committed to working as one team, united by a sense of ownership and guided by integrity and earned trust.