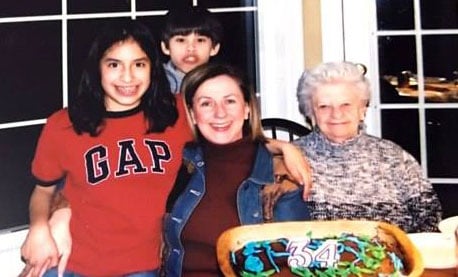 Pictured is Maureen and her children with her mother, Alice. (And by the way, it was Maureen's 43rd birthday!)

My Back StoryIn recognition of National Caregiver Month, we are reposting this blog from 2016.
In 1992, we placed my dad in a long-term care facility. He was partially paralyzed from a stroke, and we couldn't care for him at home. After a year of living apart from my dad, my mother asked to move in with me. Despite living in a senior living community, she was lonely. She was only 71-years old. She had some health issues and limited mobility, but she was completely independent. At the time, my husband and I had a 2-year old daughter and another baby on the way. I had a busy and demanding career. The thought of having another person in our home to help out was very appealing.
True Confessions
However, over the 18 years that she lived with us, her health steadily declined and she became more dependent. Fortunately, she was never to the point of needing help with activities like bathing or feeding, but we couldn't leave her alone overnight. She needed us to drive her to doctors' appointments. (No Uber, yet!) Simple activities like grocery shopping, attending church, or going out to dinner required wrestling her wheelchair into our car. We had to run her errands, like going to the bank or picking up prescriptions. There was constant fear that she would fall and break her hip. And she hated having to rely on us for everything.
Here is my confession – I didn't make it easy for her. Between juggling my career, my family, and her needs, I was tired and exhausted. I resented her presence. Sometimes, I wanted to be alone with my husband and children for dinner. I wanted to be able to go away for a weekend with my family without having to make arrangements for my mom. I got tired of having to take time off work to take her to the doctor. And she knew how I felt about everything.
My mom never wanted to be a burden. So she asked a neighbor to take her shopping. She asked my kids to run her errands. She asked people from church to take her to the doctor. She visited my sister to give us time alone. And she tried to do anything she could to make life easier for me.
This made me feel guilty because now other people's lives were being disrupted, not just mine. My neighbors, friends, and family shouldn't be impacted to make my life easier. I should be able to do this on my own. She took care of me for over 18 years. As her daughter, it was now my responsibility to take care of her. And I could not have been more wrong.
No One is a Caregiver Superhero
My mom passed away five years ago after complications from hip surgery. (Yep, she fell and broke her hip.) I've had time to get some perspective, which leads me to my next confession – I'm not a caregiving superhero – actually no one is a caregiving superhero.
Caregiving is hard. Caregiving comes from a place of love and can be rewarding, but it is hard. It is demanding. It is stressful. As a matter of fact, it is bad for your health. Studies have shown that caregivers are more likely to have a chronic illness than non-caregivers. Caregivers are at greater risk for depression and a decline in quality of life.
Caregivers aren't limited to those caring for an aging, disabled, or ill family member. A caregiver can be a foster parent or a grandma raising her grandchildren. A caregiver can be a professional like a nurse, case manager, or social worker. A caregiver may provide full- or part-time care. They may live with the care recipient or provide care and support from a distance. The care may range from helping with tasks like shopping and cleaning to providing complex medical care.
The best advice I can give a caregiver is take care of yourself. Taking care of you isn't selfish. It doesn't mean you are a failure. It gives you the strength and energy needed as a caregiver. It actually helps you become a better caregiver.
I was fortunate -- I had great support from my sister. But if you or someone you know has caregiver burnout or is ignoring their own needs, download our free eBook, A Caregiver's Guide to Taking Care of You.